Great sound in a small room is possible.
Listening to music or watching movies in a dedicated listening room can be a great way to enhance the overall experience. However, choosing a small room for this purpose can present some unique challenges. In this article, we will discuss the pros and cons of having a small listening room as well as the concerns that come with speaker choices and how to achieve a big sound in a small space.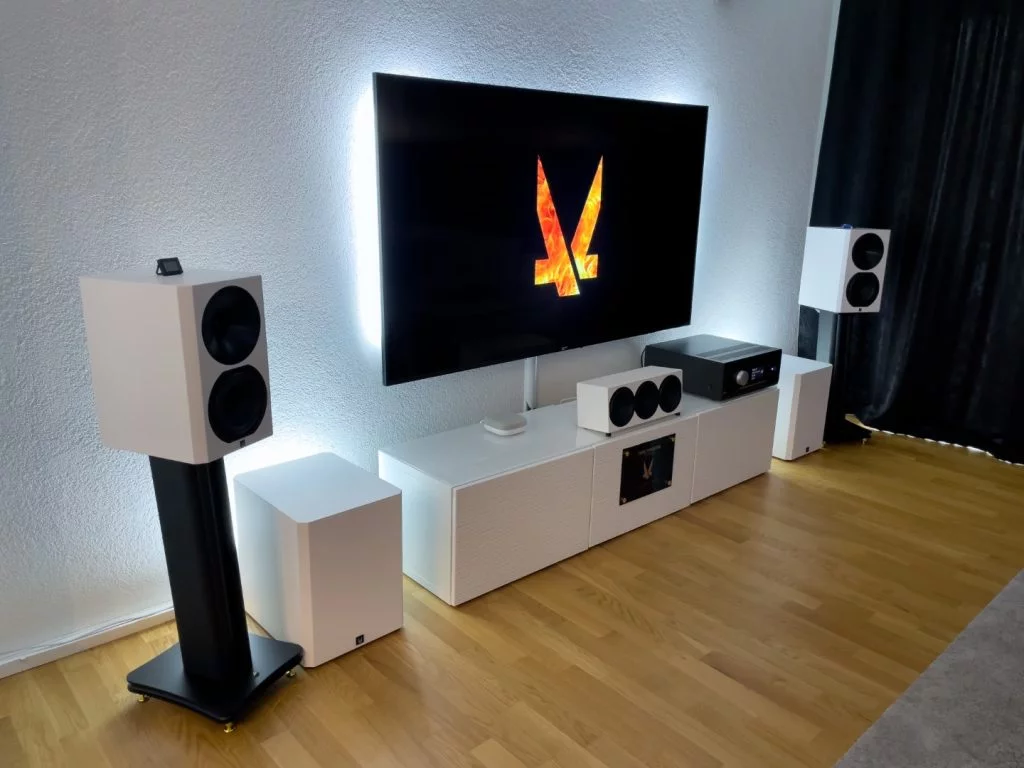 Pros
Cost-effective: A small room is typically less expensive to construct and maintain than a larger one.
This makes it a great option for those on a budget.
Easy to control acoustics: A smaller room is easier to control Acoustically. Using Bass traps, Diffusers, acoustic panels, etc. In untreated rooms, sound waves will reflect off hard surfaces which will create echoes and degrade the overall sound quality.
Intimate and personal experience: Some prefer a small room as it can provide an intimate and personal listening experience, allowing for a greater sense of connection with the music or audio being played.
Cons
Limited space for equipment: Room size can be limiting and it may require you to make compromises on the equipment choices you make.
Overwhelming bass: Bass may sound inflated or 'boomy'
Limited options for speaker choices: larger speakers will take up more physical space in a room which could be a limitation.
What should I keep in mind when selecting suitable speakers?
Size: As mentioned earlier smaller speakers are generally a better option for a small room as they take up less physical space and are designed to produce optimal sound in a small form factor.
Frequency response: Look for speakers that have a wide frequency response, as this will ensure that you get a full range of sound.
Directionality: Choose speakers with a wide dispersion pattern. A wide dispersion will engulf you and fill the room with sound.
Placement: Be mindful of where you place the speakers in the room they should be placed at ear level. Experiment with 'toe in/out' this will help with the sound presentation (Imaging). It can also help to place them a foot away from the wall (or other solid surfaces) to reduce sound reflections and improve the overall sound quality.
Which speakers do we recommend?
Our 1961 Series is the perfect candidate for high-end sound in a small form factor.
The small footprint guarantees ease of placement and the sealed design on the 1961 Monitor and Bookshelf helps with taming the bass and subwoofer integration. Even the bigger 1961 Tower can be used sealed if needed, resulting in a tighter more articulate bass.
If you want to step up in sound you should have a look at our 1723 Monitor S and 1723 Bookshelf S.
Still not intrusive in terms of cabinet size, the higher-end components offer a more open and lifelike sound and will still work in a small room without any issues.
Our personal favorite here is the 1723 Bookshelf S, with its wide dispersion and great soundstage.
Learn more here: The Benefits of Our Bookshelf Design
Whether it's a quiet session or a small gathering of friends and family, a small room can be the perfect setting to fully immerse in the music and enjoy it to the fullest.
Happy listening!