Our TriAxial surround speakers come in a configuration of Left and Right speakers. This design is a culmination of a regular direct-fi ring two-way speaker, with two full-range drivers added to the sides. It is a mix of a monopole and dipole configuration and in our opinion, this is the superior layout for a surround channel.
The speakers are marked Left and Right on the back of the speaker.
The reason for the left and right specific speakers is that the side-mounted drivers in this TriAxial surround are mounted out of phase with each other, is to create a large, rear surround field. The side driver that is in phase with the front-mounted drivers, needs to be the one pointing at the front speakers for optimal surround effect placement and steering. This means that the TriAxial surrounds are mirror-image pairs.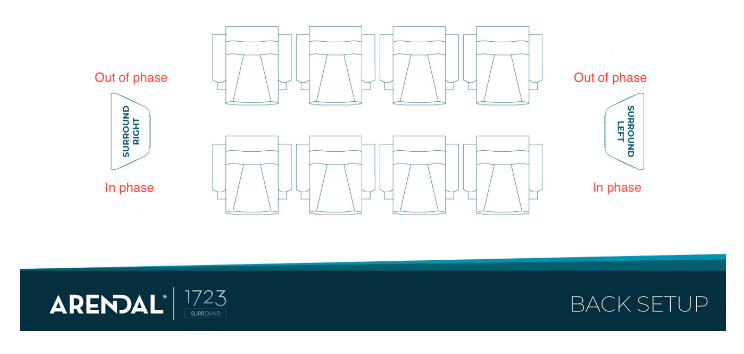 Ideally, you have a rectangular room, with at least 38% of the room behind the listening position, solid front and rear walls and nothing to block the forward and rearward radiation of the TriAxial Surrounds.
Unlike the front speakers, the strong front and rear wall reflections are very much part of how the TriAxial (and any other surround with side-firing drivers) surround works.
TriAxial surround speakers should be ideally mounted 50-60cm above head height and directly to the side of, to 10deg behind the listening position. Higher will work too, as will a bit further back.
For a seven-channel system, where we have "back surround" channels, we recommend the placement described in this article.