Rock solid HDF cabinets
Higher density and naturally better damped than MDF (Medium Density Fiberboard), using HDF (High Density Fiberboard) results in a sonically inert cabinet. HDF was also chosen because it can be machined much more precisely than MDF, which is especially important for precision critical areas like the two-part HDF & Aluminum waveguide.
Arendal Sound products are using HDF thicknesses ranging from 18 to 50mm throughout the designs, with critical areas like driver mounting and cabinet bases being the thickest.
Internal bracing has been strategically placed to increase overall cabinet strength and limit unwanted panel vibrations that may cause audible colorations. Internal braces are CNC routed to shape to smooth internal airflow and minimize volume losses within the cabinet, whilst maintaining thickness at critical assembly joints.
The final detail for 1723 Tower, Monitor and Center, is to apply a butyl-based differential mass damping layer to the inner faces of the cabinet, just to be sure we have damped out every last resonance in the large enclosures. Butyl is not added for 1723 S speakers as these have smaller enclosures and did not give any differences in testbench measuring or audible differences.
Premium Finishes
All Arendal Sound 1723 speakers comes in four premium finishes;
• Black Satin
• Black Gloss
• White Satin
• White Gloss
To ensure the best and long-lasting quality, all Arendal Sound speakers use up to 12 layers of paint, consisting of primers and polyurethane paint, hand-finished. We use no vinyl, anywhere.
The finish is what you would expect from Hi-End products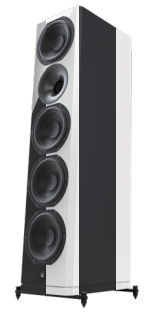 Magnetic metal grills
We are especially proud of our new exclusive and fully custom-made grills. For all Arendal Sound speakers we have made a free-flowing, perforated metal grill which does not affect sound quality. We have then wrapped it with a clean black cloth to tone down the visually hard look, whilst simultaneously damping out any residual vibrations.
In addition, we did not want plastic pins to add to the grill, which would degrade the clean look of the cabinet with pin cups. Neodymium sub-surface magnets grip the metal grill with great force, preventing unwanted movement and vibration during high-level playback. The grills have a rubber protection to ensure the cabinet is not damaged when you attach the grill and you will hear a nice 'thump' when you let them seat. Grilles on or off, our speakers look and sound great either way.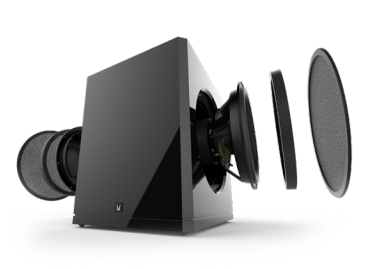 No plastic - "Green sound"
Well, you may find a cable strap somewhere in plastic, but all components in Arendal Sound that affect the sound are built up from non-plastic parts. High-grade aluminum back plates on subwoofers and speakers. Even our logo is in anodized aluminum.
Internal wiring
Not your average zip cord. All products utilize high-count multi-strand wire, braided together. These were not done for looks, but chosen to produce the most consistent impedance possible and electrical current carrying capabilities. The benefit is very low insertion losses without the problems of "skin effect" caused by large-diameter wires. This ensures that each driver sees what the amplifier intended without additional colorations.
Rubber feet
All subwoofers comes with rigid rubber feet (M6 threads) which have a strong grip on the fl oor. You will not have a subwoofer walking around, even if that is impossible due to the sheer mass of our HDF cabinets which are "super quiet". Put your hand on our speakers whilst they are playing and you will feel, very, very little.